A Tradition is Born
The Knight family began providing the Ann Arbor area with quality food products in 1952 when our beloved founders, Ray Knight (1928 -2013) and Mary Knight (1931-2010) purchased Knight's Market in downtown Ann Arbor.
The Market, operated today by Sherry Bedolla (Knight) and Vernon Bedolla (Sherry's brother in-law), is a specialty meat market and neighborhood grocery store in its original location.

Growing Strong
In 1984, Ray expanded the Knight's food operations to include the first restaurant, Knight's Steakhouse on Dexter Road in Ann Arbor. In 2001 the family opened the second location as Knight's Steakhouse & Grill in Jackson. The newest restaurant is Knight's Downtown at Liberty and Maynard, which opened in 2014. It's the best place in town to grab a delicious steak and a strong drink!
The Right Ingredients
Right from the start, our operating philosophy has been to provide our customers with excellent food and drinks, exceptional service and real value in an atmosphere that makes guests feel right at home.
Each day we strive to provide a great customer experience by continuously enhancing our menu offerings and elevating our service to new levels of excellence. Knight's is renowned for serving a mixed drink you would proudly serve to guests at your home and at an exceptional price. We also offer a wide selection of draft and bottled beers and an extensive wine list that appeal to established and trending tastes.
Main Course
As a traditional steakhouse, our steaks, prime rib, chicken, burgers and seafood are the focus of our menu. To appeal to other preferences, we are equally proud of our other menu choices, including an assortment of salads, sandwiches and pastas. We offer a variety of lunch and dinner specials each day, many of which have become a weekly tradition for our amazing loyal customers who love their Roasted Turkey Tuesdays and Pot Roast Wednesdays.
The Spirit Lives On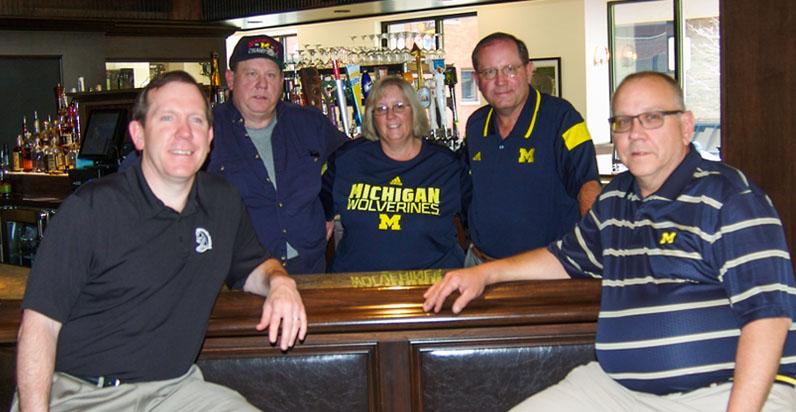 Today, Knight's is a well-established fixture in the community, actively supporting important work through the Ray and Mary Knight Foundation. As sixth-generation Ann Arborites, we are proud of our community and appreciate the decades of support from our customers.
Thanks for visiting our site and we look forward to seeing you in our restaurants and market.
The Knight and Bedolla Families
Dine With Us at Any One of Our Three Locations: